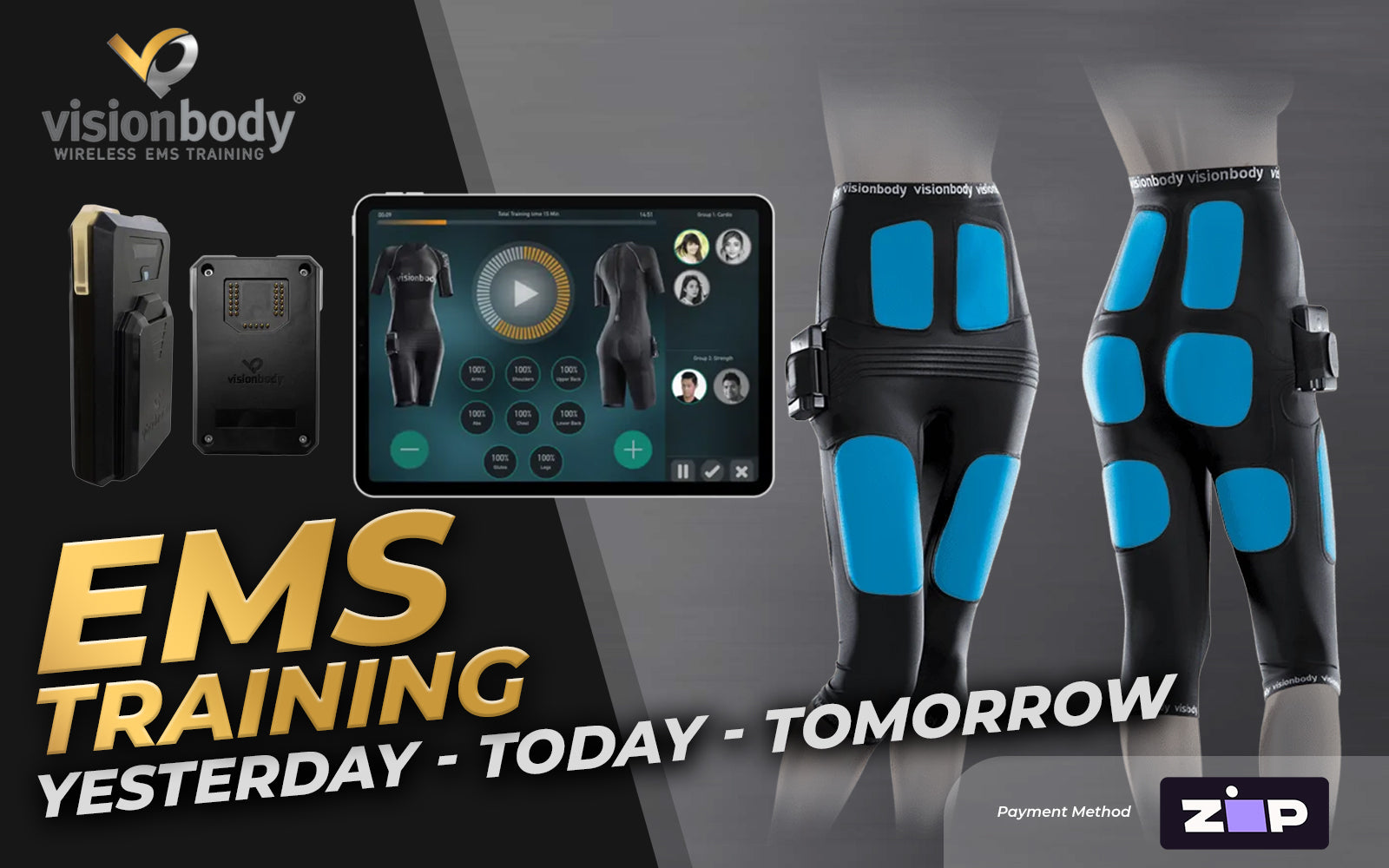 GENTLE POWER, LONG DURATION, EASY HANDLING:
Hardly any bigger than a smartphone, but full of new incentives for the EMS Training of the future. We have poured our entire expertise into the small VisionBody Box, which flows via highly conductive magnetic heads, directly into the vision Body Powersuit. What our bio-engineers and software specialists call Arbitrary Waveform Generation, Amplitude Modulation or Duty Cycle Variation, is felt by the person training, as a gentle, intense yet natural muscle stimulation. The VisionBody Box is itself a strong muscle. As befits a healthy heart, it is characterized by high endurance: 6-8hours of battery life. Yet, charging only takes two hours. The box is controlled wirelessly via Bluetooth with your mobile device, and attached to the power suit with practical Velcro strips. There is no hindrance, and no restraint on movement. Instead, wide-ranging, yet gentle power for your VisionBody functional workout.
TALKS TO YOUR BODY-THROUGH BODY-Q-KEY.
While classic EMS signals often feel like an electric "hammer" is pounding on your muscles, VisionBody is experienced as a soft and gentle impulse, almost like a massage. The pulses are not perceived as an external stimulus, but rather as a reinforcement of natural muscle tension. In this way, VisionBody achieves unprecedented depth of stimulation, with maximum comfort. At the cellular level, increased energy is released. The likelihood of muscle acidosis and degenerative joint disease are almost completely excluded, with the correct application.
The system maintains the perfect balance between tension and relaxation simultaneously. This is made possible by Body Q-Key (Body Question Key). Digital communication with the body also improves verbal communication with the customer. Since you do not have to constantly adjust the amplitude modulation, you can concentrate more completely on your clients, as a trainer.
PULSES ON POINT
The Body-Q-Key (Body Question Key), is an analysis tool, which automatically adjusts to the human body. The state of the body is continuously checked during a workout, the data analyzed, and this info is used directly to fine­ tune the training. The VisionBody system maintains the perfect balance between tension and relaxation. It uses the specially developed Arbitrary Waveform Generation.
ARBITRARY WAVEFORM GENERATION
The unique Arbitrary Waveform Generation adjusts the frequencies gently, but dynamically, to endogenous muscle and nerve processes.
LOW AND MEDIUM FREQUENCIES
Low and medium frequencies are automatically combined for each signal and do not need to be selected separately, as is the case with many other EMS systems. Depending on which program you select, the optimal combination of low and medium frequencies is used. Actual capacity is between 7 Hz and 6,650 Hz.
AUTOMATIC FREQUENCY ADJUSTMENT
In addition to automatic frequency adjustment, the frequency can be manually adjusted to soft, medium or hard, depending on the type of exercise, training goal and fitness level
TIME PRECISION MUSCLE STIMULATION
The time precision muscle stimulation takes into account the refractory period of the nerves. That is, pulses are only sent when nerves are receptive.
DUTY CYCLE VARIATION
Via the variation of duty cycle, the ratio of impulse to duration is optimally controlled.
OVERCOMING IMBALANCES IN THE BODY
Imbalances in the body, for e.g. varying muscle function on the right or left side of the body, is compensated automatically by the system