Visionbody EMS Workout Suits
---
The System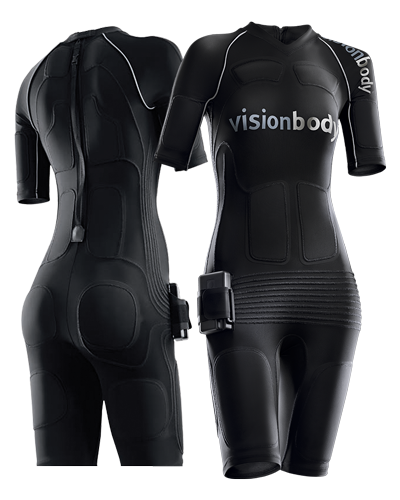 VISIONBODY POWERSUIT
---
Fits like a glove: No cables, no moistening and maximum, individual freedom of movement. And when you're wearing it, you look just as good as Captain America or Mystique. And you'll feel the same after a few hours workout.
VISIONBODY BOX
---
The heart of the system combines low and medium frequencies with maximum depth effect and adapts itself highly dynamically to the person doing the training. Pulses are only transmitted when your nerves are receptive. Enjoy 90 minutes of training every week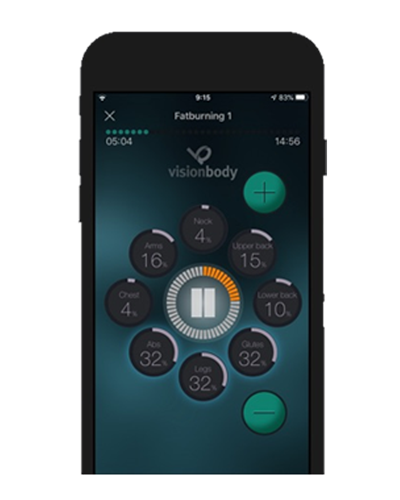 VISIONBODY APP
---
The command centre is currently pre-installed with 3 training programmes and individual combination options for a tailor-made and functional EMS workout. Including intuitive touchscreen operation and wireless Bluetooth connectivity.
GENTLE POWER, LONG LASTING, EASY HANDLING.
---
Wireless EMS suit
The box is wirelessly controlled via Bluetooth and attached onto the Powersuit. No hindrances, no restriction of movement.
No need to moisten
Before starting the training it is not necessary to moisten or spray the suit.
Bluetooth controlled
The control box is managed via Bluetooth 4.0 from your Smartphone or tablet.
Training programmes
The intuitively designed software allows for quick and safe operation. Select the desired training programme from the 4 preinstalled programmes.
Powerful results
Your physical maximum performance increases by up to 30% within a few weeks.
Just 20 minutes
20 minutes of EMS training will replace up to 3 hours of a traditional workout.
VISIONBODY PRO System Elements
One step ahead, receive your Visionbody system in a suitcase of good style and high value.
---
20 minutes of EMS training at home will replace up to 3 hours of a traditional workout. Maximum performance increases by up to 30% within a few weeks. Muscle mass increases by up to 14% within a few months.

FitTech offeres something that no other gym in the Illawarra offeres you. The EMS suits are 100% effective in sculpturing your body, professional trainers that will & do work with...

Can't recommend FitTech enough. Just completed 6 week challenge and lost over 16 kilos . The support and encouragement not only from the amazing owners Daniel and Darko who where...

Trying to keep the business going got really busy and the weight piled on. Started training with EMS and started to lose weight. Saw the power of EMS and wanted...

Wow what an experience, I have to say a massive thank you to vision gym for letting me do the 6 week challenge as it has changed my life for...
She has 3 kids and works long hours but got it done. She came in, got it done and off to the next thing. Very determined and loved the suit....

Grame loved the intensity of the suit. He loved working hard and was not stopping for anything until he achieved his target. He became stronger, lost body fat and improved...